11 Kinds Of Doctors You Are Likely To Date In Singapore
Posted on 27 Jan 2018
So you want to date a doctor in Singapore? I'll spare you the suspense and tell you exactly what you are likely to find out there.
I'm all for doctors meeting other people on Tinder/Coffee Meets Bagel myself - As a matter of fact, I've encouraged a good number of collegues to give it a try.
But having witnessed a doctor try to impress his Tinder date in a rather cringe-worthy manner, I decided to write this post since a large part of a doctor's job is to raise public awareness about important stuff (such as with this anti-cancer vaccine).
1. The "I'm a Doctor, and you better know it" date
This date (who inspired the post) will spend the whole dinner talking about doctor-ey things he does as a doctor. You know, to establish straight off the bat that he's a doctor. Except you already know that, as it's listed in the very first line on his Tinder/Facebook/Instagram/Snapchat/Twitter profile. His scrubs attire and stethoscope also feature prominently on social media.
The only benefit of going out with this guy? He will offer 24/7 medical advice, free prescriptions, and MCs to prove that he's legit, never mind that he can really only do one of the above.
If you are out on a date with a medical student, be prepared for this card to get played even more. Because he's a soon-to-be doctor, and you better know it.
2. The "Stud" date
The Stud knows your mom wants you to marry a doctor - Problem is, his mom has told him that he's hot stuff, and so has his aunt, and his classmate's aunt, and his neighbour's aunt, and his...You get the drift.
He has no intention whatsoever to settle down. After all, he's spent a long time getting to right where he wants to be - an eligible doctor in Singapore. The Stud is only on Tinder for further validation, because you can never really validate these guys too much.
He's often to be found dating multiple people within the same hospital, such as that nurse on level 8, the physiotherapist on level 10, and his ward dietitian. He's also one of the few species to frequently be found partying on a Saturday night.
The best counter to the Stud? Tell him matter-of-factly that your mom really wanted you to marry a rich lawyer or banker instead, as doctors earn less. Watch smugly as his inflated ego crumbles to bits.
3. The "Absentee" date
Matched on Tinder with this guy? Be prepared for a text relationship - his modus operandi is to Whatsapp you intermittently, in between non-committal RSVPs.
If he does show up, your date will inevitably be interrupted by the pharmacist or nurse calling. He may also excuse himself midway through dinner to return to hospital, having been activated for a call. Because things start blowing up at the hospital when he's not around.
All his remaining free time is spent preparing for exams and publishing papers to get that training post he's been gunning for. The Absentee is your go-to guy if "lots of personal space" and hospital dates appeal to you.
4. The "Mommy's Boy" date
How'd you think he got into med school in the first place? That's right, behind every successful Singaporean doctor is a Tiger mom who's made sure he's done his Ten Year Series religiously since Kindergarten, and drank a full glass of milk every morning for breakfast.
The Mommy's Boy can't stay out past 11 pm or drink alcohol. Mum will also invariably have your number on speed dial, for that occasion he's having a stomachache and she needs to call you to check up on him (true story).
If you are going to date the Mommy's Boy, be prepared to date his mother as well - These two only come together as part of a package.
5. The "Perpetually Low Level Angst" date
"FML. I got 3 weekend shifts in a row....AGAIN".
"I can't believe I've got to work weekends for free. What happened to the 5-day work week!!"
"Of course I'm angsty, how'd you expect me to function like a normal person after a 30-hour shift?"
The Singapore healthcare system has unfortunately left this date broken and cynical. Buy him some ice-cream - It probably won't help to prevent the inevitable rant, but he won't say no to free ice cream...because when was the last time anyone ever recognized and rewarded all his hard work with ice cream?
6. The "Forever Alone" date
The Forever Alone probably had that one long-term relationship in med school that didn't work out. Due to the rigors of working in a Singapore hospital, he/she is way too busy to get back into the dating game.
Going out with Number 1 to 4 doesn't quite appeal to his/her sensibilities, hence he's turned to Tinder for a fresh start. Don't mind them if they start off a little awkward - it's been a while since they've last had someone (or the free time) to go to the movies with.
7. The "Castaway" date
When you first meet the Castaway, he will probably ask you which year it is, and whether the PAP are still in power. He may also be in half-torn hospital scrubs. This poor soul has probably spent the last 3 weeks in hospital working back-to-back shifts, as payback for his audacity in applying for leave over a long weekend.
Make sure you promptly feed the poor guy - he will need lots and lots of TLC to properly rehabilitate to the outside world.
This date has seen lots of gross things at work, and obviously needs to share them over dinner. Because sharing is caring.
Consider it a warning sign when the conversation abruptly switches from dessert to "that other time I saw some really disgusting genital warts...."
Maybe it's perverse satisfaction from seeing your reaction, or maybe it's a litmus test to see if you're a worthy dinner partner, who knows? Just be prepared for a lot of your following discussion topics to revolve around urine, blood, sex, faeces, and anatomical bits.
9. The "Horrible Alcohol Tolerance" date
Never suggest drinks with this date. You don't want to carry him or her home. Remember when I said that doctors rarely party? All that alcohol tolerance has to start from somewhere. I know of female colleagues who can't finish half a pint of beer without getting drunk.
Propose a coffee date in the daytime instead - Doctors rarely turn down an offer to get more caffeine into their system, and meeting during the day allows them to stay out later, which bring us to...
10. The "Can't Stay Out Too Late" date
This date has to turn in before 11 pm, similar to the Mommy's Boy. Unlike the Mommy's Boy however, this curfew is self-enforced. Waking up at 630 am, 6 days a week means that retiring while the night's still young is hardwired into his DNA, to ensure he gets enough of his precious sleep.
While other doctors have adapted to a measly 5 - 6 hours of sleep a day, this date has been slow to respond to evolutionary pressures, and consequently still requires a minimum of 8 hours of sleep a day. The good news is that this makes arranging dates rather easy - Just work it around his nap schedule.
11. The "Unicorn" date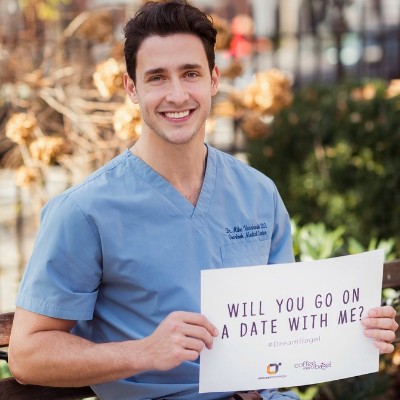 Congratulations on finding him - The Unicorn actually wants to settle down with the girl/guy of his dreams.
Singapore's closest answer to Dr Mike, he's tall, handsome and has a cute dog. Beyond the superficial, he also has a heart of gold (which is why he's not in law or finance), and didn't locum illegally in army (because he wants to run for MP in the near future).
Just pray that he's not secretly dating the level 8 nurse and level 10 physiotherapist as well.