A Quick Guide To Picosecond Lasers And Pigmentation Removal
Posted on 2 May 2018
Singapore
Posted on 2 May 2018
Consult Doctor
"Pico Toning" is the latest buzzword in Aesthetic Medicine.
Patients who see me for pigmentation problems commonly ask me these questions:
"Is PicoLaser a brand or a type of Laser technology for treating Pigmentation?"
"Doctor, how is PicoLaser different from other lasers? Which is better?"
"What can PicoLasers treat?"
This guide explains in detail how Picosecond lasers can help you for your pigmentation issues.
(Also read: Ultimate Guide To Pigmentation Treatment In Singapore)
1. Is Picosecond laser a brand of laser?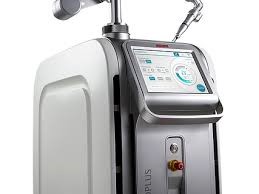 No, it's not. Picosecond laser is a type of laser technology, not a brand of laser.
The "Pico" in "PicoLasers" refers to Picosecond, which is one trillionth of a second.
A "PicoLaser" is a Pigment Laser that is able to fire laser beams with very short pulse durations in the Picosecond duration.
Even amongst the various brands of Picosecond Lasers, there are differences in pulse duration – ranging between 450 picoseconds to 750 picoseconds, which might affect the effectiveness of the laser.
It is an improved technology from traditional Q-switched Lasers which fire laser beams in the nanosecond (billionth of a second) duration.
Picosecond lasers are approximately 10 times faster than nanosecond Q-switched lasers.
Which brings me to the next point…
2. Is a Picosecond laser better for pigment removal?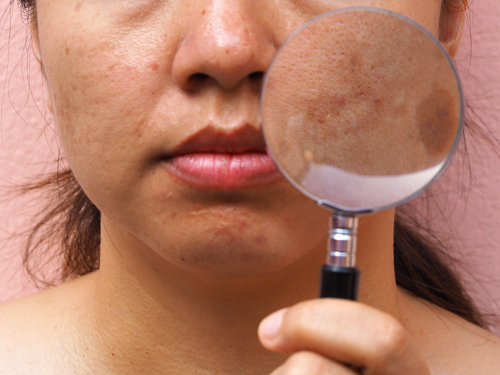 Let's understand the science behind pigment removal: high energy is required to shatter the pigment ink, which will then gradually be removed by your immune system.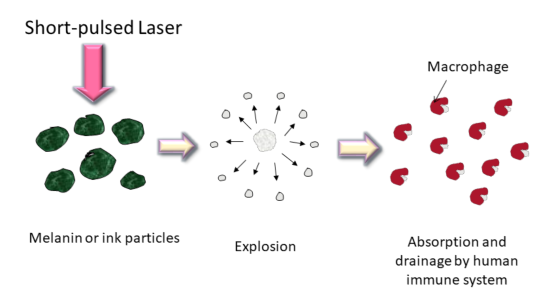 There were two problems with traditional Pigment removal:
Surrounding tissues might get damaged during the process of delivering Laser energy to shatter the Pigment particles.
Certain lasers do not have enough power to shatter these pigment particles.
Picosecond lasers solve these problems by emitting laser beams in shorter picosecond pulses. This means that there is less time for surrounding tissue to be damaged by heat from each Laser beam.
Hence, pigment removal treatments using a Picosecond Laser are safer with lower risks of side-effects like hyperpigmentation.
Compared to the older nano-second lasers, Picosecond lasers are also able to deliver higher energy laser beams to shatter these pigments more effectively.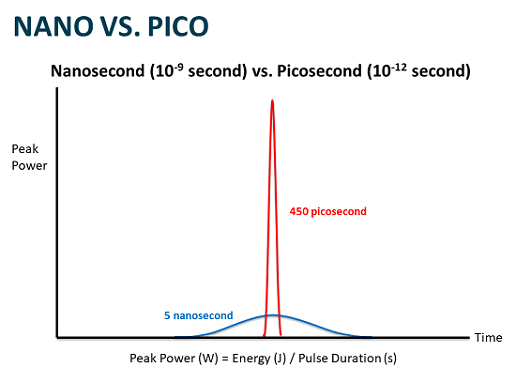 This results in better clinical results per treatment, which reduces the number of treatment sessions required to achieve best results.
3. Does this make Q-switched nanosecond lasers obsolete?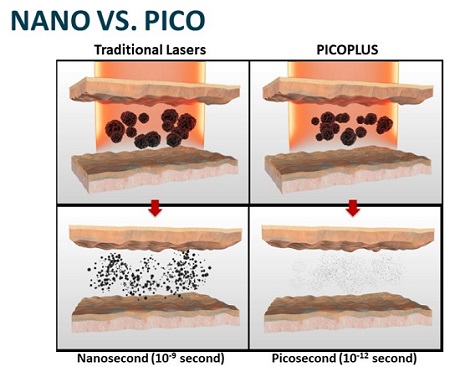 Well, both yes and no.
Picosecond Lasers are used to remove difficult pigments/tattoos that cannot be removed by Nanosecond Lasers.
In one Korean research study, nanosecond lasers can be used to shatter large pigments into smaller fragments first.
Subsequently, Picosecond lasers are used to shatter these smaller fragments into tiny fragments that are more easily removed by your immune system.
Some doctors use both picosecond and nanosecond modes to provide optimal results for complex pigment / tattoo conditions.
4. What else can Picosecond lasers treat?
While initially used to remove tattoos and pigmentation, Picosecond lasers were found to be effective in treating skin texture problems such as acne scars and wrinkles.
This is due to its ability to stimulate collagen at deeper layers of the skin.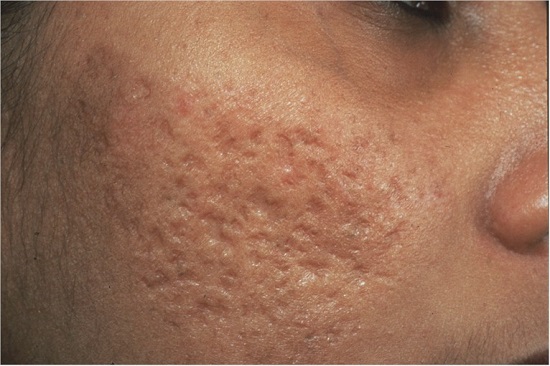 A New York-based research study showed that the long term results (3 months) for treatment of acne scars using picosecond laser are similar to a series of fractional ablative laser treatmetns.
In fact, the new Picosecond laser can target multiple depths to achieve even more favorable results for skin-resurfacing (acne scars).
Acne scar and wrinkle treatments require stronger settings and typically cause a small amount of skin redness which can last for approximately 1 - 3 days.
5. How much does a session of Picosecond laser cost in Singapore?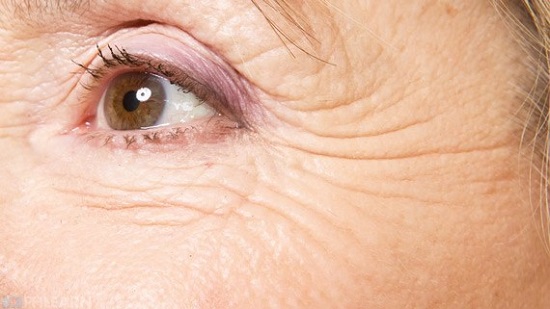 As the latest technological advancement in Aesthetic Medicine, such technology often comes at a high cost.
Depending on your problem areas, treatment prices can range from low hundreds ($250/session) to $1,000. Usually 3 - 6 sessions are suggested.
The price difference is due to the complexity of the medical issue, extensive laser treatment as well as doctor's procedural time.
This is why for more complex issues like acne scarring, Picosecond laser prices in Singapore can be go up to $1,000 per session.
6. Is there any downtime, side-effect or risk?
For treating pigmentation and tattoos, the picosecond laser is widely accepted to be safer than Q-Switched nanosecond lasers.
A Japan-based study showed that there is a lower risk of Post-inflammatory Hyperpigmentation (PIH) and Hypopigmentation.
In a Hong Kong-based research study, there were no cases of hyperpigmentation and temporary hypopigmentaton (4.8%) that eventually resolved in weeks without permanent side-effects.
I have also observed that there is a tendency for skin to be slightly drier than usual for 3 - 5 days after the laser treatment.
For treating scars, there is mild temporary skin redness and discomfort for 1 - 2 days post laser.
This is because the picosecond laser is non-ablative; it creates tiny pockets of controlled damage in the deeper layers of the skin without injury to the superficial parts of the skin.
7. How to pick the right Picosecond laser?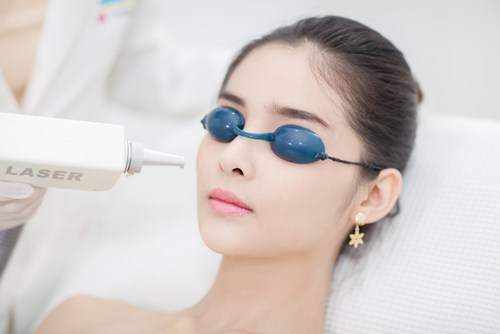 Not all picosecond lasers are similar. Aesthetic laser technology is always improving due to the large amount of research and development along with clinical studies.
This has resulted in a proliferation of newer generations of Picosecond Lasers from the US and Korea.
It is not easy to understand and choose the right brand of Picosecond Laser due to the highly technical differences between Picosecond laser machines.
Ask your doctor the following questions to ensure that you are getting the right Picosecond laser technology for your needs:
1. What is the brand of Picosecond Laser that you are using?
While all Picosecond lasers can remove pigments, not all pigment-removal lasers are Picosecond lasers. Picosecond lasers are a sub-set of lasers used for treating pigment issues.
Ensure that you are getting a true Picosecond laser technology to deliver optimal results for your concerns.
2. What are the wavelengths available in Picosecond mode?
A doctor who uses a picosecond laser which more wavelengths will be able to treat a wider variety of pigment issues.
Similarly, multiple coloured tattoos also require a variety of different wavelengths for satisfactory removal.
3. What are the research papers that have been published for using the Picosecond Laser that you have?
Picosecond laser technology itself has been well-researched all around the world. However, not all brands of Picosecond laser have such robust research backing.
There are nuances to each Picosecond laser, and most doctors will gladly discuss the cutting edge research that their favourite laser has painstakingly undergone.
---
Dr Justin Boey's practice of Aesthetic Medicine centres around the busy modern individual. His specialities are scar treatments and non-surgical facial rejuvenation with Thread-lifts, Botox and Lasers.