Difficulty Finding Good Doctors Online In Singapore? Here's Why
Posted on 29 Jan 2018
Imagine needing consultation on a medical or dental procedure. It could be related to fixing your teeth, treating a sports injury, or choosing a LASIK clinic. How would you go about finding a doctor/dentist in Singapore?
You'd likely start by asking friends and family. If that fails, you do an online search. Then you read forums and blogs about the doctor or clinic. That's a good approach, but chances are you won't find the right doctor!
Many good clinics don't have an internet presence.
Online information in Singapore rarely comes from doctors (we are mostly too busy to write).
Sponsored bloggers, forum posts or even review sites don't paint the entire picture, or are just downright misleading.
Let's briefly talk about Point 1, which will make our purpose for starting DxD very clear.
1. Clinics can't say much!
Doctors and dentists are strictly regulated by MOH's PHMC advertising guidelines. Clinics are NOT allowed to assure you of results, bring up past cases as references or use before/after photos. In short, doctors cannot use the internet to tell you any of the important information you need to make a decision.
What clinics can do, is give you very generic information and hope you go down for a consultation. Even if doctors took the time to write on their clinic's blog, most of you may be doubtful of this as "biased information" (plus assume that the clinics are pushing their own services to you).
This makes it very time-consuming for you to find the right doctor.
2. Medical/dental marketing is expensive!
The medical field is one of the most expensive industries to market online in Singapore.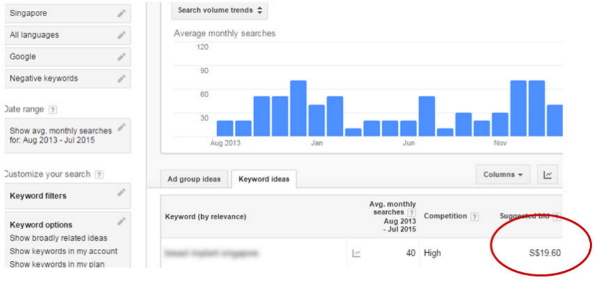 Every time you search for doctors and click on one of those Google ads? $19.00. If a doctor wants just 100 clicks a month, that's $1,900!!
Good doctors don't necessarily make a lot of money. Good doctors may not have a huge patient base or want to make maximum profit. Thus, it's usually the richer clinics and bigger medical groups that tend to have the most online presence - we are sure you've noticed that too!
We were fortunate to have a digital marketer familiar with the unique requirements of medical SEO assisting us on a pro bono basis. Without this expert input, it'd have been incredibly difficult for us to reach out to more readers as well. He runs his own medical company blog here.
3. Advertising platforms hate medical/dental stuff
It's not just MOH - Google is also very strict with doctors. Here's a list of 4,442 medical terms that doctors cannot advertise. For example, even having an informative web page about a medical procedure can get a doctor's account banned. No other industry has this many banned words.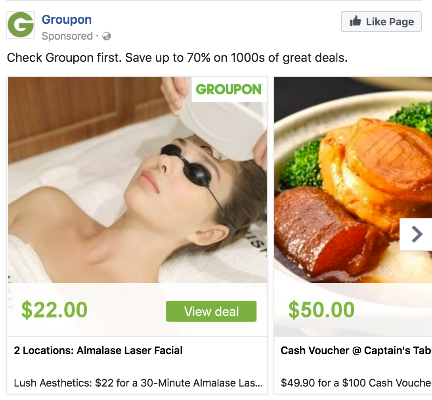 This is one example of a Groupon advertisement that's totally illegal for doctors.
So although you may get bombarded with Facebook/Google ads from beauty spas, discounted Groupon deals for skin laser treatment, or sponsored teeth whitening posts on The Smart Local, doctors cannot do the same where advertising is concerned.
4. DxD's purpose
Saying all that, the main purpose of DxD is to share information on good doctors and lesser known clinics. If good doctors and dentists are unable to reach out directly, then we'll spread the word here.
It's important for our blog to remain neutral and unaffiliated. We believe that over time, DxD will become an ideal platform to bridge the communication gap between medical professionals and the general public.
We also provide a free ask a doctor online service - the first of it's kind in Singapore!