Natural Looking Breast Augmentation without Silicone Implants
Thanks for your question on fat transfer to the breast! This is an excellent procedure if done right in selected patients as you will have larger and natural looking breasts with your own (autologous) tissue without any implants. This is an excellent procedure for women who are looking for a mild to moderate increase in breast size without implants. Fat transfer to the breast requires liposuction and harvest of fats from donor sites in your body and then re-grafting of this fat into your breasts. This is perfect to target areas that are hard to lose fat from and those areas will also help your breasts to keep their size even with future weight loss. The downtime for this procedure depends on the following factors:
Factors that affect Downtime
1. Anaesthesia. Liposuction and structural fat grafting to the breasts is usually a 2-3 hour procedure done under general anaesthesia and as a day procedure. Patients are fasted the night before and they come in for the procedure in the morning and are usually discharged home the same afternoon. (See below for a more detailed walkthrough on the recovery)
2. Liposuction. The number of donor sites, as well as the location of the donor sites will affect the recovery. I usually harvest fat grafts from the thighs, abdomen and the arms or any areas where there are stubborn fats to be targeted. Accordingly, these areas will be bruised and tender for the next few days.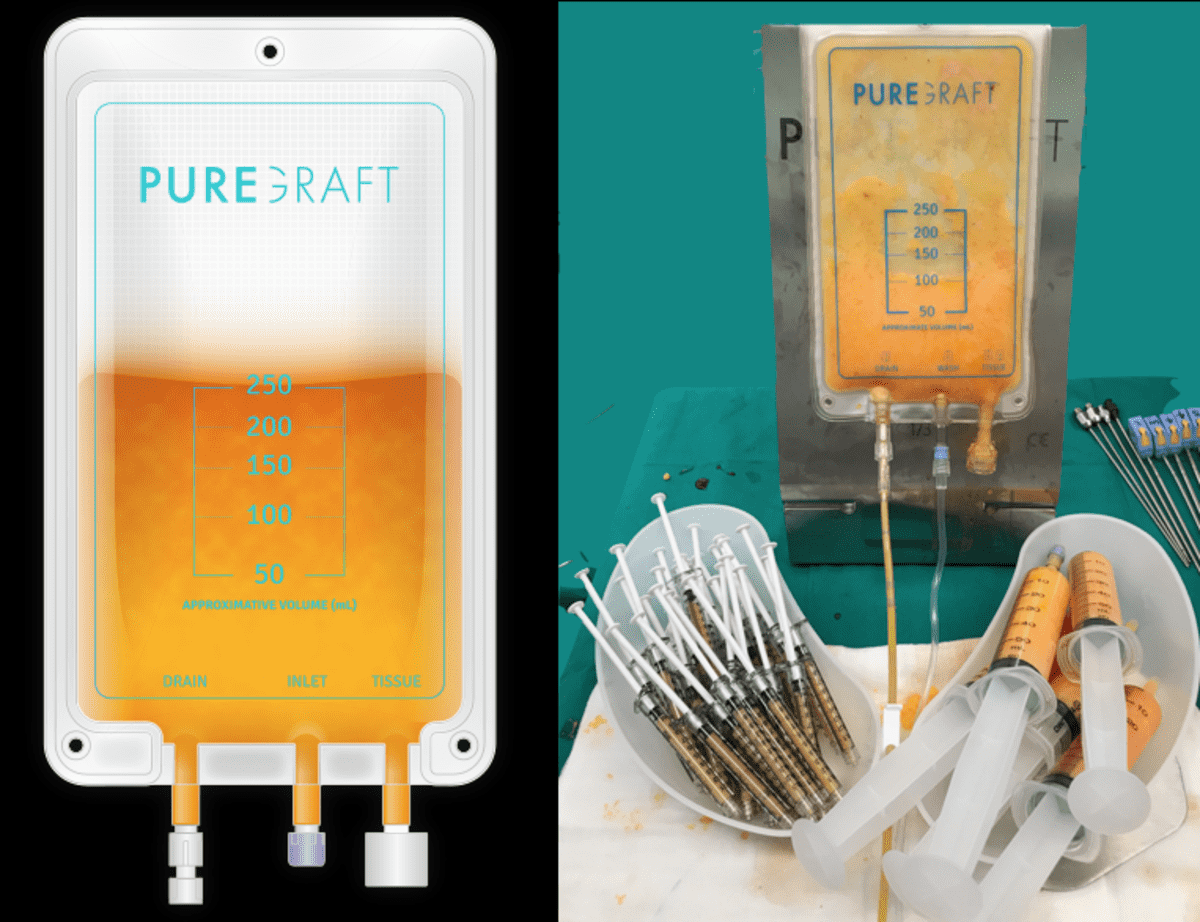 3. Preparation of Fat grafts. The harvested fat is then prepared using the Puregraft system before they are grafted into the breasts. The Puregraft system helps to reduce the time and number of steps during the purifying process, hence speeding up the overall procedure and reducing the time under anaesthesia - leading to a faster recovery.
4. Patient factor. Every patient has a different pain threshold and recovery profile. We encourage patients to be active after their fat grafting sessions and be up and mobilising as this will help to reduce swelling and speed up the recovery process. Liposuction and fat transfer is a procedure that all patients tolerate well and the post-operative pain is usually managed well with oral painkillers.
5. Surgeon factor. An experienced surgeon will be able to perform the procedure in a expeditious and safe manner hence reducing complications that can otherwise lead to a longer recovery time.
Downtime and a walkthrough of the recovery after liposuction and fat transfer to the breasts.
Week 1 (Day 1 to 7). Depending on the individual age and pain threshold, the recovery can be as short as a few days. Most patients are advised to take 1 week of medical leave and so far most of my patients are back to work within a week. Some can be back to their jobs in 5 days especially if it is a desk-bound job.
Weeks 1-3 (Day 8 to 21). For the areas that have undergone liposuction and the breasts, expect bruising for up to 2-3 weeks. Patients are given a protocol on garments that will help to improve graft take whilst also reducing swelling. Restrictive bras and under wire bras are avoided for 2-3 weeks, and patients are prescribed special recovery bras during this period of time.
Weeks 3-4 (Day 22 to 28). After 3 weeks, they can return to normal bras, but these usually have to be up-sized to avoid unnecessary pressure on the breasts.
Week 4 onwards (Day 28 onwards) Heavy lifting and strenuous activities should be avoided up to 4 weeks. After 4 weeks, most of the swelling would have normalised and patients are allowed to squeeze their breasts. Patients are allowed to sleep on their stomachs after week 5.
Patients are advised to follow your doctor's aftercare guidelines to ensure optimal fat graft survival and also a smooth recovery.
Hope this gives you more clarity on your research towards fat grafting to the breast! Have a great weekend!