What happens when my sesamoid is removed through surgery?
What happens if one of the sesamoid located in the ball of the foot right near the big toe is removed? I have underwent surgery 6 months ago to fix the particular sesamoid, but was unsuccessful, resulting in a complete removal of that sesamoid. It has been 6 months, and whenever I have to do heavy duty work or exercise, the surgery site gets swollen easily. The swollen area will return back to normal after 1-2 days of rest. Any doctors able to advise on this? Thanks in advance. -J
DOCTOR'S ANSWER (2)
Dr Dinesh Sirisena
Singapore
Answered on 26 Jan 2018
Dear Jun Hao,
Thanks for the question – sounds like an uncomfortable experience! Dr Ethan has provided a great summary of the problem and way to manage your symptoms.
One question springs to mind and that is what "heavy" activities implies. Without meaning to seem patronising, the term heavy has many different meanings and for some, a walk or light jog signifies heavy, whereas for others it might be running a marathon or doing squat in the gym.
If there is a specific activity that brings on the symptoms, it might be worth looking at activity modification – perhaps under the guidance of a specialist.
This brings me to my next question; I wonder if you have seen a Podiatrist post-op?
Some Podiatrists will provide insoles or advice on exercises, but perhaps you could aim to see a Sports Podiatrist who can look at your gait, running pattern and stride (if indeed your symptoms come on with running?) and the can provide you with a program to improve things for you.
Beyond this, reviewing with your surgeon is a good idea, icing after activity and considering anti-inflammatory medicines as required are all good option.
Hope things improve and please keep us posted!
0
145 views
0

Doctors agree
26 Jan 2018
Consult Doctor
Dr Ethan
Singapore
Answered on 26 Jan 2018
Hi J, good question.
You have 2 sesamoid bones in your foot. These are small pieces of bone embedded in tendon, and they function like pulleys (kinda similar to your kneecap) for your big toe joint, by providing a smooth surface over which the tendons slide.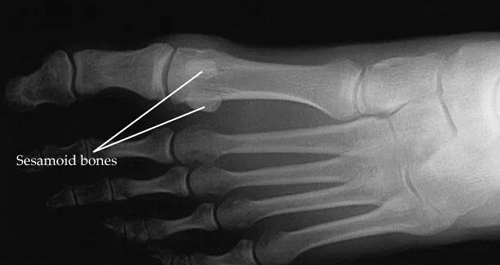 Your sesamoids help to absorb the weight placed on the ball of the foot when walking, running and jumping.
Complete recovery after sesamoidectomy is known to be quite variable – ranging from months to a year. This is due to factors such as:
Whether you followed your doctor's post-op instructions carefully, including rest, wound care, rehabilitation, proper footwear, etc.
Lifestyle habits, including nature of your job, amount of exercise, running habits etc.
It's for these reasons that your surgeon is the best person to ask about how long the swelling will take to recover completely.
Your foot has a dense sensory innervation, so it's not uncommon for patients who've had their sesamoid bone removed to continue experiencing some pain and swelling in the ball of the foot for several months. This swelling should be isolated to the ball of your foot.
Generally speaking however:
The initial healing after sesamoidectomy takes weeks.
It takes about 3 months for all the soft tissues in your foot to settle after surgery – most of your improvement should be seen in the first three months.
It generally takes 6 months or more for the swelling to fully subside, and by this point you should be able to resume most of your normal activities.
By the 1 year mark, most people would have put the surgery behind them. Thus, you can continue to expect improved pain and function up to 1 year.
Obviously any issues after the surgery, including swelling, needs to be followed up, because a disproportionate amount of pain and swelling could be due to other factors that warrant investigation. I imagine you will still be on follow-up by the surgeon who operated on you.
The fact that the swelling is ONLY brought by heavy duty work or exercise, and returns to normal after rest, makes it less likely to be worrying. Amongst other reasons, this type of swelling could be due to overuse, foot imbalance, or improper footwear and placing too much stress on the toe joint.
My suggestion, if I were you, would be to discuss these issues regarding swelling and recovery with your surgeon, for 2 main reasons:
He can check for any other potential problems related to the surgery, such as infection
He can link you up with appropriate professionals for further care, be it a podiatrist to assess and prescribe you correct footware, or a physiotherapist/sport medicine doctor to plan rehabilitation of your foot.
In the interim, whenever your toe is swollen, you could rest, ice and elevate it – simple things to do to reduce the swelling more quickly. If the pain or swelling is bad, taking an NSAID like ibuprofen can help as well.
0
145 views
0

Doctors agree
26 Jan 2018
Consult Doctor
Get Doctor Quotes
We promise that we'll ask our doctor friends to give you their best possible price!