The most common cause of hair loss in men is Male Pattern Hair Loss as seen in the attached picture.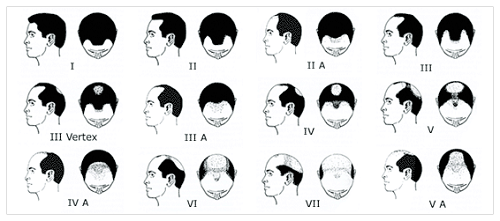 If you are having receding temples and front hairline similar to the above picture, then you are having Male Pattern Hair Loss. It is due to Dihydrotestosterone hormone wreaking havoc on the front and top hair follicles on your head.
There's 2 ways to restore hair in your case (and for many other men).
1. Hair Transplantion
Its the most effective method to restore hair as strong hair follicles from the back of the head are extracted one by one and then re-implanted on the front and top of the scalp . These follicles will never be subject to balding (notice how some old men still retain the U shape hairstyle around the sides and back of their head despite the top being empty ?)
IT IS THE ONLY METHOD TO PUT MORE HAIR FOLLICLES INTO YOUR SCALP.
2. Medical hair treatment
Finasteride blocks the DHT and is highly recommended for oral usage (3% of users may have some sexual side effects ). It makes existing hair follicles thick and strong again.
Minoxidil increases blood flow to the scalp and encourages hair growth.
Low level laser therapy (igrow ) also stimulates growth and strengthening of existing hair follicles.
Korean scalp stimulation introduces growth factors to the scalp to encourage healthy hair follicles and their growth .
You should visit a doctor highly interested in hair loss treatments and hair transplants to seek the best advice.
You can read this article for more information about hair loss treatment in Singapore.