Besides clinching diagnoses such as gastric ulcers, colonic polyps, or cancers, modern endoscopes can certainly be used to treat many different digestive conditions.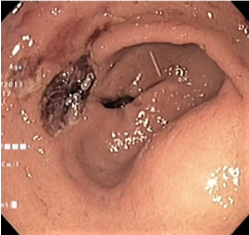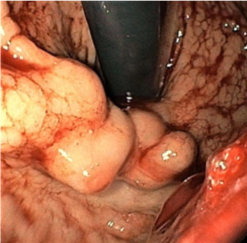 Gastric Ulcer Small Intestine Polyp Bleeding gastric varices
By removing a growth known as polyp in the large intestine through the process of Colonoscopy and Polypectomy, colon cancer death rates has been shown to be reduced by more than 50%.
In cases with active bleeding from the digestive tract, endoscopy is now the first line treatment to arrest the bleeding. Gallstones which have migrated into the bile duct can now be removed by a special endoscope through a process called ERCP. (Find out more about ERCP here)
Chronic pain from inflammation of the pancreas can be managed through a nerve block via Endoscopic Ultrasound-guided injection. These are just some examples of what modern endoscopes can achieve.
In patients with early gastric cancer, endoscopic resection may be a possible option without open surgery. On the other hand, advanced obstruction of the oesophagus due to cancer may be overcome by special feeding tubes or stents inserted through endoscopy.
In recent years, more sophisticated endoscopic methods have been developed to tackle difficult stones in the bile duct through the use of lasers.
So you can see, endoscopy is very much a diagnostic as well as a therapeutic tool for many digestive conditions. Do speak with your gastroenterologist to find out more if you or your loved ones have conditions involving the digestive system which endoscopy may help.