Request Answer
Request answers from expert doctors:
---
---
---
---
---
Where can I seek treatment for cystic acne in Singapore? What is the best cystic acne treatment?
Acne & Scars
Dear Dr.,
Similar bumps have been popping up all over my face, usually on the cheeks or side of my face. They start with a bump, would slowly develop into (huge) pimple about 1-2 cm in diameter.
After one pops, it becomes like a "crater". Another would appear, almost immediately, at a different spot. I'm a bit concerned because they seem to be consistent in the size and look of it (dark in colour).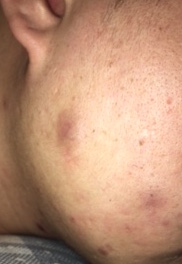 This is an example of how an "upcoming" pimple looks like.
I have never sought treatment before, but have been using various types of products though these don't seem to be helping/working.
Where can I seek treatment? What would the extent of treatment be like i.e. how many visits or how often would the visits be?
DOCTOR'S ANSWER (2)
Hi,
Thanks for your close-up photo. You have Cystic Acne, which is moderate to severe, as well as multiple comedones (blackheads). In the background, you have old acne scars as well.
The dark coloured, bigger lumps are signs of an infected cyst. The reason why it's tender, swollen and dark coloured, is because your body mounts an inflammatory response to the clogged pores and trapped bacteria.
With cystic acne however, the infection is deeper into your skin, and tends to scar worse as well, accounting for the "crater"-like scar subsequently.
What are the types of acne?
Oil, dead skin cells, or bacteria can clog pores.
If the comedones are open, it is called a blackhead.
If it is closed, they are known as whiteheads.
Papules and pustules are the term for red bumps that are caused by inflammation in the hair follicles while nodules are the painful red bumps caused by the build up of oil secretions deep within hair follicles.
Acne filled with pus is known as cystic acid and it usually can cause scarring.
What causes Cystic Acne in Singapore?
An acne is a localized inflammation resulting from the over activity of oil glands. Changes in hormones often affect oil glands, such as the end of a menstrual cycle, the onset of menopause, or discontinuing the intake of birth control pills.
An increase in stress levels can also cause breakouts because stress causes an increase in the cortisol hormone. The hormone androgen, a male hormone found both in men and women, can worsen acne because it stimulate oil glands and enhances pore blockage.
Some experience acne as a result of genetic disposition while others experience it as a side effect of medications.
How do I treat Cystic acne?
The good news is Cystic Acne is treatable. There is a wide array of acne treatments in Singapore, including doctor-prescribed topical medications that can address the issue and oral medications for severe cases.
There are several other medications that will help your acne apart from topical antibiotics that you have already tried.
Topical medications include retinoids while oral medications include antibiotics, isotretinoin and anti-androgens such as contraceptive pills.
Other patients who prefer more natural routes try applying manuka honey, tea tree oil, and fruit acids as a gentler alternative.
More permanent treatments include Agnes selective sebaceous gland treatment which destroys selected oil glands that repeatedly cause acne.
How do I prevent cystic acne?
Non-comedogenic skin care is also a key part of preventing new acne. It is best to get advise from your aesthetic doctor/dermatologist on the most suitable skin care for your sensitive skin.
HydraFacial MD is a medical treatment facial that helps to deep cleanse and hydrate your skin to prevent new acne outbreaks. It is suitable for sensitive and combination skin types.
How do I find the best doctor for Cystic Acne treatment in Singapore?
1.Experience with Acne and Acne scarring treatment
- Find a doctor who is passionate about acne treatment and is thorough in his consultation.
- Acne can be caused by many factors and it is important that your doctor takes a detailed history and examination to find the best treatment/s that are suitable for your oily/sensitive skin type.
2. Cost-Effective
Given that acne treatments are likely to take months and multiple medications/treatments for good recovery, seeking cost effective medical solutions is definitely a must.
Hope this helps!
Warmest regards,
Dr Justin Boey
Thanks for the very helpful picture. Your condition is typical of moderate to severe acne, due to the presence of active pimples, acne scars and comedones (or blackheads).
The dark coloured, bigger lumps that you described is an infected cyst – the reason why it's tender, swollen and dark coloured, is because your body mounts an inflammatory response to the clogged pores and trapped bacteria; similar to how your other pimples are formed.
With cystic acne however, the infection is deeper into your skin, and tends to scar worse as well, accounting for the "crater"-like scar subsequently.
What causes it?
Men tend to get cystic acne more so than women, especially in the teens/early 20s. It can affect your face/chest/back/shoulders.
It's likely that hormones (androgens) play a part, which is why men get it worse. Stress can also make acne worse.
There's a genetic component for acne as well – if one of your parents had severe cystic acne, you have a greater chance of getting it too.
What's the treatment?
I wrote previously about some available options for acne treatments in Singapore.
Over-the-counter medicines that work on milder acne often have little effect on cystic acne, especially in your case since you already have scarring present.
Your doctor will likely recommend one or more of the following treatments:
Benzoyl peroxide and Retin-A can help turn over skin, reduce oil gland activity, and unplug your pores to prevent new pimples from forming.
Oral antibiotics can help control bacteria and reduce inflammation of your cystic acne. Some people may find that antibiotics don't work so well for them, due to antibiotic resistance. I'm not a huge fan of antibiotics for acne treatment, personally.
Isotretinoin (or Accutane). The gold standard for acne treatment. For most people, this clears the skin completely and permanently. If it recurs, you can repeat the treatment. Women need to avoid becoming pregnant while taking this drug.
Always make it a point to find out what the ingredients are in the creams that clinics prescribe you, so you can keep track of what works for you, and what doesn't.
Speaking from personal experience, educating yourself about ingredients is also very helpful to ward off clinics that try to push special expensive acne "cream" and "lotion" sets with their special branding to you, when you may need a more specific or stronger treatment.
Where can I seek treatment?
Looking at your acne quite now, it's quite important to seek treatment ASAP as you will get more scarring if you don't treat the acne.
It's very very important not to pop your zits, especially the cysts as those will definitely leave worser scars.
In Singapore:
You can try to get an appointment to see a doctor at the NSC as a cheaper route, after obtaining a referral letter from the polyclinics. The wait times can be long: up to 1 – 2 months.
You can also request to see a dermatologist at the NSC privately: consultation tends to range from $90 – $120.
You can visit any GPs that have an interest in treating acne, or private clinic dermatologists. This will cost more, but will be the fastest option.
What would the extent of treatment be like i.e. how many visits or how often would the visits be?
Doctors treating you for acne will usually see you about 3 – 4 weeks after the first consultation and starting you on treatment. Number of visits is variable, depending on treatment initiated – this can take up to a year plus for acne treatment.
After the first few visits, if your condition has settled, they may only need to see you after 3 – 4 months, and subsequently maybe after 6 months.
It really depends on what treatment you are on, and your response to the treatment.
Cheers