Root Canal Treatment Is Totally Badass (And 5 Common Misconceptions)
Posted on 29 Jan 2018
Consult Doctor
So root canal treatment has a badass rep and is usually associated with all things scary. Luckily, most horror stories are exactly just that – a story! I'm here to bust the most common myths in Singapore about root canal treatment.
But first, let's cover what root canal treatment is and why you might need one. Bear with me!
If you are seeking a trusted dentist for root canal treatment, you can also jump to the end to send in a free enquiry to a few dentists at once!
Your tooth has three layers:
The outmost layer is the enamel – this is the hardest substance in your body and is white in appearance (remember when we explained how you may accidentally erode this layer during DIY teeth whitening treatment?)
The dentine is under the enamel and has lots of tiny tubes leading to the pulp.
The pulp is the innermost portion of the tooth, and extends all the way down. This is made up of blood vessels and nerves.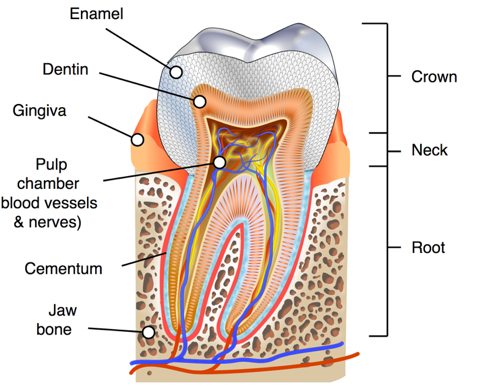 When your tooth's pulp becomes infected or inflamed, root canal treatment is required to remove the infected tissue. Pulp can become infected due to a number of reasons:
Deep decay
Large fillings involving the pulp
Trauma to the tooth
Cracked /fractured teeth
Severe gum disease
Heavily worn-out teeth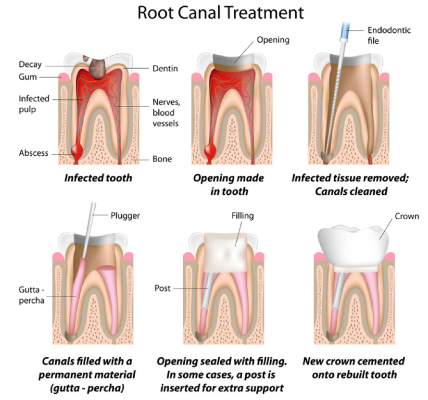 Root canal treatment involves the removal of infected tissues with special instruments.
Here's the badass process in it's entirety:
Your dentist will place a protective sheet over your tooth.
A small opening is made in the tooth surface, and tiny files are used to clean infected tissue.
We then "wash" the canals with an anti-bacterial solution to prevent further infection.
The root canal is filled and sealed with a rubber-like material.
After your root canal treatment, a crown is typically needed to provide protection from re-infection, and to protect the tooth from breaking.
Phew – if I've still got your attention, it's time to address those pesky myths about root canal treatment that I often hear from patients in Singapore.
1. "Oh my gosh, my friends told me that root canal treatment is like suuuper painful."
You're not alone! This is the most common misconception that everyone believes.
Root canal treatment actually helps to relieve any pain by removing the infected tissue! This is all done with topical anaesthetic agents that numb your tooth and surrounding gums.
For the first few days after treatment, your tooth may feel a little sensitive, especially if there was a lot of pain or infection before the procedure - but this will definitely disappear with time.
2. "My infected tooth isn't painful at all! Can I just leave it please?"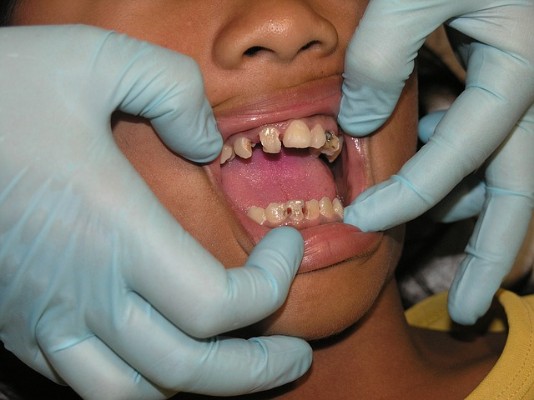 Please don't leave it! The surrounding tissues can become infected, and also the longer you leave it, the less the success rate of saving your tooth.
If you've noticed that your tooth is discoloured or greyish in appearance, or you've discovered a little pimple on your gum, then you definitely need to visit your dentist.
Ignoring these signs will probably result in more pain, swelling, and even loss of the surrounding bone of the tooth!
3. "I've read that root canal treatment won't work anyway, why not just save some money and pull the tooth out?"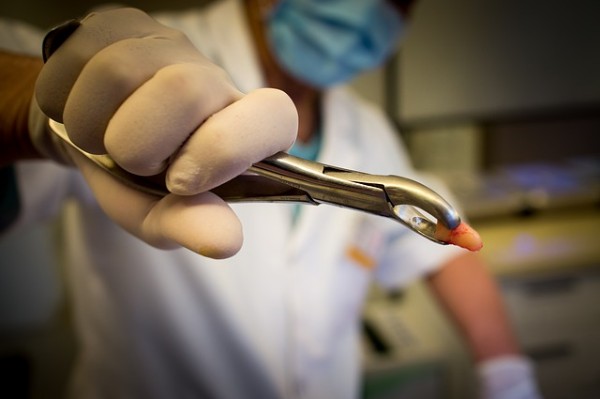 The success rate of root canal treatment is between 85-94% and will last for many years, if not for life.
Removing the painful tooth will certainly relieve the pain, but it's important to remember that there is no like-for-like replacement for your own tooth.
Any tooth replacement has its own considerations, which we'll cover another time.
4. "Root canal treatment takes ages and is really expensive."
Unfortunately, this one is a half-truth. Sometimes long and multiple visits are required for us to remove all the infected tissue. Root canals are intricate little things so can take some time to treat properly.
In Singapore, root canal treatment costs between $500 - 1500, depending on the tooth and the dentist.
5. "I've heard that root canal treatment can cause illness in other parts of the body."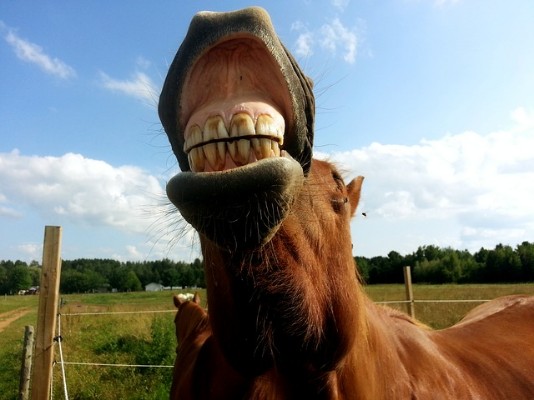 This is a laughing horse. He's probably laughing at Dr Price.
There's no scientific evidence whatsoever supporting these claims. This misinformation that root canal treatment causes other disease stemmed from discredited research conducted over a 100 years ago by Dr Weston Price.
Dr Price advocated tooth extraction over root canal treatment, based on his flawed research. This resulted in a frightening era of tooth extraction for unwitting patients.
---
If you'd like to read up the technical bits on root canal treatment, here's a more detailed article for other dentists about whether root canal treatment actually works. Because we know that we have plenty of readers out there who are closet geeks!
For other dentistry myths, check out this article on the most common teeth whitening misconceptions in Singapore.
Dr Joanne Lam was born and raised in England. She's enthusiastic about promoting good oral hygiene as a first step towards creating a confident smile. Aside from dentistry, Dr Joanne loves outdoors jogging, skiing, hiking and exploring.