The Ultimate Insider's Guide To Seeing A Dentist In Singapore (2018)
Posted on 5 Feb 2018
Friends and family often ask me how to find the best dentist and dental clinic in Singapore for their needs.
(Read more about Invisalign treatment in Singapore here).
As a clinician who's headed a dental group over the last 10 years, I've also seen many patients who are frequently confused over their dental treatment options. For example:
How come dental treatment costs can vary so much from one clinic to the next?
What's the different "kinds" of dentists and dental clinics in Singapore?
When should you see a GP dentist, versus a specialist?
In addressing these issues, I hope to share some of my personal insights as an "insider" to help you receive the best dental care for your condition (if you are seeking a particular treatment, you can also send in a free enquiry to a few dentists here).
Training to be a dentist and dental specialist in Singapore
To become a qualified GP dentist (general practitioner) in Singapore, you have to undergo a 4 year course at NUS dentistry.
You can read what dental school life as a first year NUS dentistry student is like in this post.
To become a dental specialist, a GP can apply for a 3 year specialist course after at least 2 years of practice. There are 7 recognised dental specialities in Singapore, ranging from orthodontics to paediatric dentistry.
Is there any difference between foreign-trained dentists, and local dentists?
The main difference is in the level of supervision required, and whether they are allowed to practice independently.
Conditional registration (needs to be supervised): Foreign-trained, or foreign dentists. They are required to practise under supervision for at least 2 years, before progressing to full registration.
Full registration (no need for supervision): Dentists who are allowed to practice independently. Local NUS graduates are automatically "full reg" upon completion of their course.
What's the main difference between public and private dental care in Singapore?
Similar to seeing a doctor in Singapore, the tradeoff between choosing the public and private route is primarily one of time and convenience, versus costs.
1. Public dental clinics tend to be cheaper, but have longer wait times. Examples: Polyclinic, National Dental Centre
You are generally encouraged to make an appointment prior to seeing a dentist at a public institution.
However, there are some exceptions to this. For example, the Paediatric Unit at NDCS offers a walk-in clinic for new patients from 8am to 11.30 am. The Singhealth Dental polyclinics also have a loose arrangement to slot in a certain number of walk in patients each day.
Dental emergencies will always be seen, even if you do not make an appointment. Emergencies include:
Bleeding from extraction
Facial swelling
Intense pain (arising from advanced tooth decay or other conditions)
Trauma
To see a dental specialist at a public institution, you'll need to obtain a referral letter from a polyclinic. The wait time from referral letter to appointment can be variable, depending on the specialist whom you are seeing. Certain specialities may take between 4 – 6 weeks, while others (eg. orthodontic services ) may only require a wait time of 1 - 2 weeks.
Do note that you can also see a dentist in public without a referral letter. However, you will be charged as a private patient.
2. Private dental clinics are more expensive, but have shorter wait times. Examples: Orchard Road town practices, heartland mall clinics, neighbourhood clinics
It's always quicker for you to see a dentist or dental specialist in private practice. Clinic front desks can give you an appointment within 1 to 2 days, and most accept walk in patients too.
Is private dental care in Singapore always more expensive than public dental treatment?
In general, dental treatment tends to be cheaper in the public sector. This is because Singaporeans enjoy subsidised dental care.
However, there are exceptions to this rule. With the implementation of healthcare subsidies such as CHAS and Pioneer Generation benefits, the cost of private dental treatment can be relatively cheaper. These subsidies mainly aid the lower income and elderly.
Private dental clinics in heartland locations can also offer rates that may be comparable or just slightly higher than that of public institutions as well.
How much does it cost to see a dentist in Singapore?
At a polyclinic, subsidised dental examination fees for Singaporean citizens range from $14.10 to $24.90.
Scaling and polishing in the public sector costs around $40 - $130. In private institutions, it can range from $60 - $150+.
Here's an updated list of dental treatment costs in public and private:
| | | | |
| --- | --- | --- | --- |
| Dental procedure | Unit | Average Fee in Public Institutions | Average Fees in Private Clinics |
| Crowns | Single Unit | $650 - $786 | $400 - $2,140 |
| Full Dentures | Per Arch | $521 - $707 | $150 - $2,140 |
| Impacted Wisdom Tooth Surgery | Per Tooth | $600 - $825 | $400 - $2,140 |
| Dental Implants | Per Unit | $1,600 - $1,944 | $2,000 - $4,815 |
| Orthodontics (Braces) | Two Jaws, NonSurgical | $3,000 - $4,870 | $2,000 - $10,700 |
| Root Canal Treatment – Anterior Tooth* | Per Tooth | $272 - $353 | $400 - $856 |
| Root Canal Treatment – Molar Tooth | Per Tooth | $678 - $815 | $400 - $1,605 |
| Root Canal Treatment – Pre-molar Tooth | Per Tooth | $424 - $501 | $400 - $1,284 |
How much should you be paying for your particular dental treatment?
The dental fees charged in Singapore varies according to:
1. Whether your dentist is a specialist or GP
A specialist with 3 extra years of training will justifiably charge more than a general practitioner doing the same procedure. Do note that this should only apply to their specialised fields.
For example, an orthodontist typically charges more for braces treatment. However, he should NOT be charging more than a GP for root canal treatment because both the GP and orthodontist would have had exactly the same amount of training in root canal treatment.
2. The type of procedure, and how complex it is
Dental implants and orthodontic treatment is expensive, simply because they are time-consuming and complex procedures.
3. Your dentist's amount of experience with a particular type of dental treatment
A dentist with 20 years of experience will simply have seen more patients than one who's newly qualified. The analogy is that a Senior Counsel's fee will always be higher than a rookie lawyer.
Other indicators of experience in Singapore are:
Dentists who teach at Public Institutions
Opinion leaders in their specialty
Advisors on advisory boards
There are some exceptions to the "years of experience" rule: a younger dentist may have a particular interest in one area, such as in doing veneers or aesthetic work. Consequently, he may accumulate more experience in this one area over a shorter period of time than a more senior dentist.
The materials and costs used by your dentist in Singapore can vary greatly too!
Many of my patients are surprised to find that the materials used by dentists have vast differences in quality and associated costs. I don't blame them at all because dental clinics will never reveal if they are using a "cheaper" material. For example:
Dental crowns: The cost of a crown varies according to whether it's made from precious metal or non-precious metal. If you're quoted a lower price, it may be because you're actually getting a non-precious metal crown.
Dental implants: The price and quality of dental implant materials range widely. In general, European manufactured dental implants tend to be pricier than those made in Asia.
Braces: Metal braces are cheaper than clear ceramic braces. There are also clear PLASTIC braces which discolour with time, and will NOT look nice. They do not have inbuilt torque and angulations, and hence may not be able to move your teeth in certain ways. So when you're offered "clear braces", be sure to ask if it's plastic braces or ceramic braces.
Clear aligners: Many Singaporeans assume that all clear aligners are Invisalign. However, there are many newer and cheaper brands. You should ask your dentist which brand is being used, as I've had patients complain to me that they had been charged "Invisalign-pricing" for a non-Invisalign brand!
What if you have a limited budget for dental treatment?
If your budget is tight, you can request for your dentist to prioritise procedures. He can then advise you on the urgent dental treatment that needs to be done first, while the less-urgent treatment can be carried out at a later date.
You can also send an enquiry to a few dental clinics to get some idea of the costs involved. Most dentists are happy to directly advice you on an approximate range for your dental treatment needs.
How do you claim Medisave for your dental treatment in Singapore?
First of all, your treatment has to be a Medisave claimable procedure. Dental procedures you can use Medisave to pay for include :
Surgical removal of a tooth/teeth
Dental implants
Drainage of dental and gum abscesses
Certain types of bone grafting surgery
Surgical root canal treatment
After treatment, just fill in a Medical Claims Authorisation form, and your dental clinic will help you to submit the claim. Once approved, the claimable amount will be sent to your clinic.
The whole process usually takes no longer than 2 weeks.
How do you get subsidies on dental treatment in Singapore?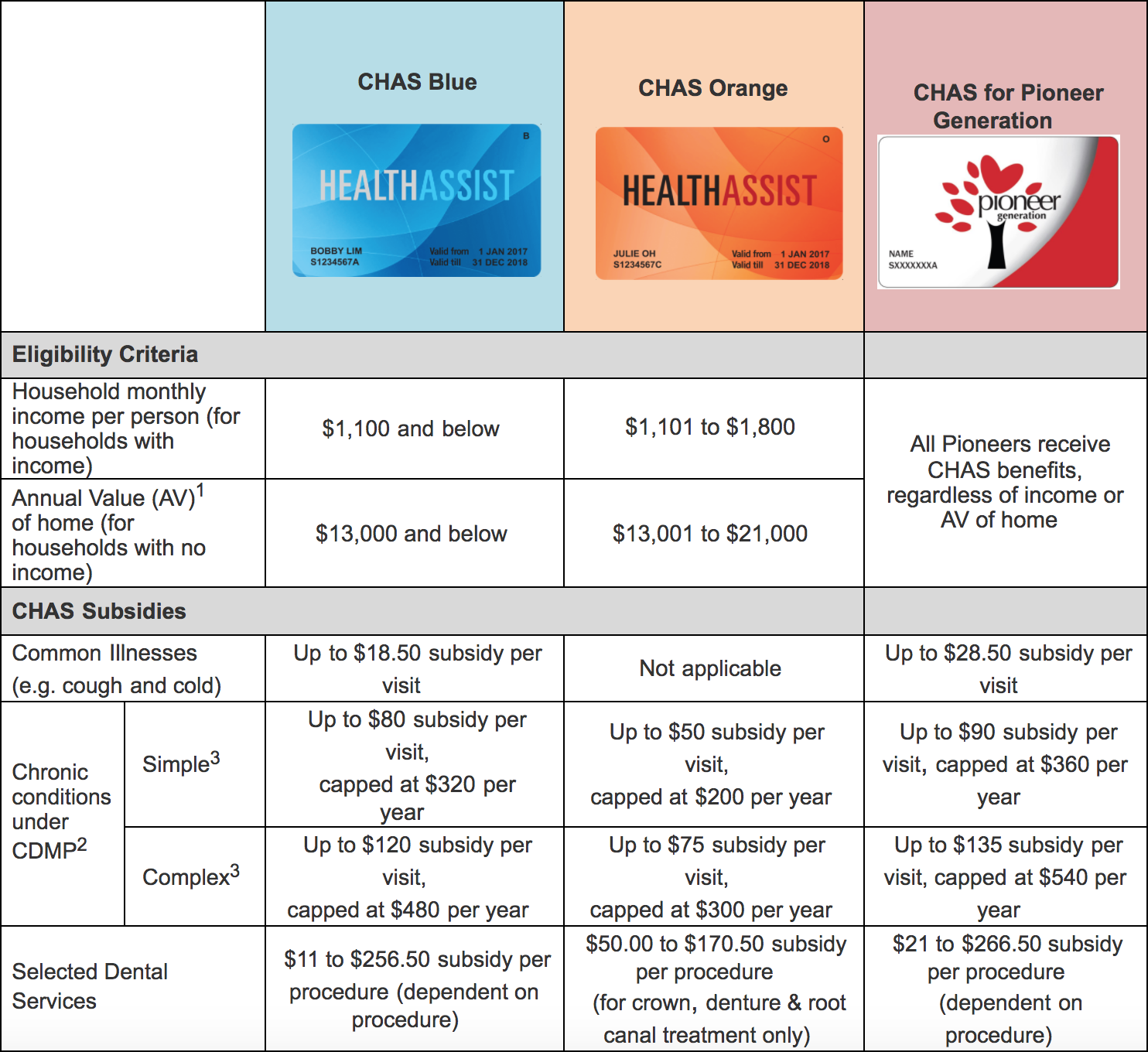 The Community Health Assist Scheme (CHAS) helps lower and middle-income groups. All participating CHAS GPs and dental clinics will display the CHAS stickers.
There are various categories of CHAS beneficiaries:
Blue tier: Household with monthly income per person below S$1,100. Subsidies range between S$11 and S$256.50 per dental procedure.
Orange tier: Household with monthly income per person of $1,100 to S$1,800. Subsidies range between $50 to S$170.50 per dental procedure.
The Pioneer Generation scheme helps Singapore citizens born before 1st January 1950. This group is entitled to receive benefits regardless of income level.
What are the different "kinds" of private dental clinics in Singapore?
There are 2 main "types" of private dental clinics in Singapore. The single dentist practice, and the bigger group practice.
1. Single dentist practice
The biggest advantage of a one dentist practice is that you'll be sure that the same dentist will see you each time. This can either be a general practitioner or specialist.
The disadvantage of a solo practice is that if your problem is more complex, he/she may not refer you to a specialist in a timely fashion, but instead attempt to manage the problem himself.
Of course, most solo dentist dentists are extremely responsible, and will refer you to see a specialist if necessary.
2. Bigger group practice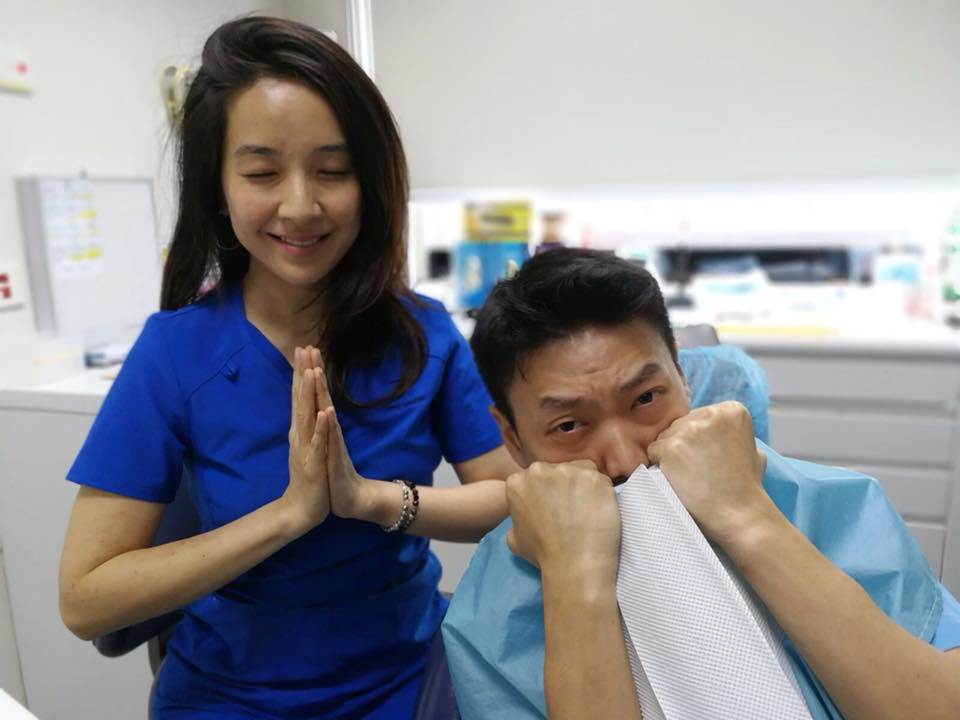 A group practice often comprises both specialists and GP. The advantage of this arrangement is that GPs can easily refer complicated problems to an in-house specialist.
Obtaining an appointment tends to be much easier in a group practice as there are more dentists. These types of practice are also sometimes able to offer emergency on call services - dentists take turns to be on duty, which means that you can phone them up if necessary, and they will attend to you after hours.
The flip side of group practices is that you may not always get to see the same dentist that you prefer.
What's the difference between seeing a GP, and seeing a specialist for dental treatment?
The main difference between a GP and specialist in Singapore is that the latter undergoes an extra 3 years of postgraduate training. Hence, they are better equipped at handling the complex cases within their speciality.
Having said that, GPs in Singapore are competent in handling your general dental treatment needs. Most of them also constantly "upskill" themselves through continuing dental education courses.However, there exists a wide variation in the type of cases that GPs can comfortably handle - this depends on the individual practitioner's level of competence.
A good GP will know when to refer you to their specialist colleagues for your dental treatment.
What are the types of dental specialities in Singapore?
There are 7 recognised dental specialities in Singapore:
1. Orthodontist: Specialists with expert knowledge in development of your teeth and bite. They straighten your teeth using different types of braces (eg. metal braces, ceramic braces, clear aligners).
2. Paedodontists: Specialists who treat children. They care for a child's oral health from birth all the way to adolescence, diagnosing and treating a range of dental issues unique to childhood. This is done with utmost consideration towards the child's safety and well-being, ensuring minimal fear and anxiety.
3. Periodontists: Specialists who treat your gums. Peri = around Odont = tooth. Periodontists are also called gum gardeners as they "tend to the soil that supports your teeth" - their job ensures that you've got good bone and gums to anchor all your teeth.
4. Oral Surgeons: Specialists who perform surgeries around your mouth (eg. wisdom tooth extraction).
5. Endodontists: Specialists in root canal treatment. They take out the nerves of your infected or dead teeth to make them functional again.
6. Prosthodontists: Specialists in dental crowns, bridges and dentures.
7. Oral Medicine: Specialists in lesions in and around your mouth.
How to find the best dentist in Singapore for your needs?
Here are the 4 most important factors to take into consideration when choosing your dentist in Singapore:
Communication skills and objectivity: A good dentist will listen close to your requests and concerns, advice on all your treatment options, and carefully explain the pros and cons of each treatment. He will also patiently address all your questions about each procedure.
Training and qualifications: If your dental condition is complex, you may want to consider seeking the opinion of a specialist in the field.
Experience: You should consider asking the number of procedures the dentist has performed for a particular type of dental condition.
Clinic capabilities: If you require several different procedures, do ask your dentist if they can all be provided by the same clinic. Otherwise, you may incur more inconvenience in terms of liaising between different clinics and dental teams.
Finally, you may also want to send an enquiry to a few dentists to find someone whom is able to answer all your queries, and who will discuss all the possible treatment options available for your condition.
Once you find a good dentist, and especially one who is comfortable co-managing complex cases with specialist colleagues, do stick to him or her! Besides being familiar with your dental history, the clinic will also have access to all your past records (eg. X-rays, and previous dental work).
Dentist-hopping is unwise as it can be commonplace for unethical clinics to criticise previously performed dental work, and to suggest many unnecessary dental treatments.
---
On a final note, don't forget to schedule at least 1 dental check-up a year!
Paying $60 once a year for prevention is the best way to save thousands of dollars on expensive root canal treatment, dental crowns, implants, and dentures down the road.
Dr Hwang Yee Cheau graduated from King's College Dental Hospital, University of London (BDS) in 1983. She was awarded the Maurice Kettle Prize in Orthodontics. Thereafter, Dr Hwang specialised in Orthodontics at Guy's Dental Hospital (MSc Orthodontics). In 1989, Dr Hwang joined the multi-disciplinary team of TP Dental Surgeons Pte Ltd (Drs Tay & Partners) and became the CEO (Managing Director) in 2005. In addition, she is also an Adjunct Senior Lecturer and a member of the Orthodontic Committee of Postgraduate Dental Studies at the National University of Singapore. Dr Hwang served in the Singapore Dental Council as a Board Member and Chairman of the Audit Committee from 2009 till 2012.