Yes you are right that meibomian gland disease (MGD) is a major cause of dry eyes. If you do have a combination of MGD and dry eyes, there are many ways to treat them!
However, since you mentioned that your eyes are neither dry nor painful without contact lens use, I suspect you may have another condition known as Giant Papillary Conjunctivitis (GPC).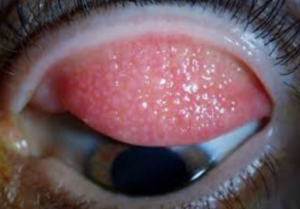 It is very common for chronic contact lens over-wearers to develop GPC. It is your body's response or 'rejection' to the chronic use of contact lenses, which is regarded as a 'foreign' material to your eye. Think about it, if we are putting a foreign object in our eyes for the most part of every day for 10-20 years, it is likely that our body will develop an 'allergic' response to it. Over time, the inner surface of your upper eyelids will become swollen with the appearance of giant 'cobblestones' (your eye doctor can elicit this under slit lamp examination).
Symptomatically, you will feel pain, itch or dryness each time you try to wear your contact lenses. And as you rightly mentioned, your eyes just cannot tolerate the contact lenses anymore.
You may treat this condition with anti-inflammatory eye drops until the episode has passed. However, going back to contact lens wear is tricky (the type of contact lens makes a difference) and may never be possible for some people.
In fact, patients with GPC are definite candidates for refractive eye surgery (after their eyes have had time to recover), because it is generally recommended that they should no longer use contact lenses forever. In which case, they would have to find an alternative long-term solution if they want to avoid spectacle use altogether.
My advice for you would be to have a consultation with your eye doctor, have your symptoms treated, be it from MGD, dry eyes or GPC, before deciding on which refractive surgery is best for you.
I hope this was helpful to you.